I hope you are enjoying the beginning of summer and that you are staying safe and healthy.
This edition of the Newsletter is about Brain Health and how to optimize it.
Having mental, emotional, and physical fitness is the key to not only a healthy, happy, and vital life, but also the wonderful combination of factors that give you the Energy to live your life.
As research continues to emerge, we are learning that a healthy lifestyle is the basis of optimal health of your body, especially the brain.
In my upcoming book, Don't Mess with Stress!™—A Simple Guide to Managing Stress, Optimizing Health, and Having FUN in the Process, I outline what I believe is the core foundation for health—Diet, Meditate, Walk (move, exercise, dance), and Sleep. These 4 factors greatly affect your memory and brain health, with the goal of reducing and avoiding chronic inflammation, and strengthening the immune system. Chronic Inflammation results from the body fighting its own cells and not turning off. We find this in most diseases, including the brain, where inflammation can cause memory loss and dementia including Alzheimer's disease.¹
In this Newsletter I am going to focus on 2 aspects of the Don't Mess with Stress!™ program, Diet and Exercise, and show you how they can positively enhance your brain.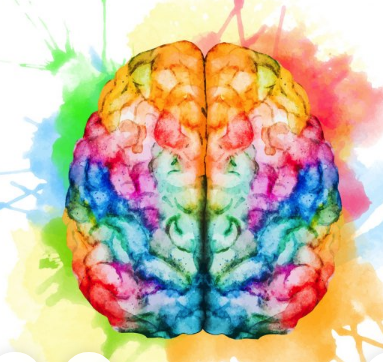 ---
Diet—The cornerstone of a diet to prevent and treat dementia is anti-inflammatory. The Mediterranean Diet and the "DASH" Diet (Dietary Approaches to Stop Hypertension) both contain "omega-3 fatty acids, antioxidants and polyphenols" ² which have been shown to decrease brain inflammation. Another diet currently being advocated to treat dementia and early stage cognitive impairment is the Ketogenic Diet, where the brain utilizes fat instead of sugar (glucose) for energy. It can be challenging to follow and can have some side effects. ³ I recommend that you consult with a physician before starting it. Since the research is still out as to the "best diet" to help your brain, I believe we can use the basic principles below to have a "modified and healthy ketogenic" diet that also incorporates Mediterranean diet and "DASH" principles.

Here are some suggestions:
Timing: Have at least 12 hours between your last meal (dinner) and breakfast, and do not eat for 3 hours before bed. This helps to create some mild ketosis. You can drink water.
Eat mostly plants, colorful vegetables and fruits, nutrient rich whole foods, adequate protein, and healthy fat such as avocados, olive oil, nuts, and seeds. Ideally organic, wild, pasture raised. Just do your best and don't stress about it.
Limit sugar, simple carbs, and processed foods. We know that a high sugar, simple carb diet causes "AGEs" Products—Advanced Glycation End products"—where sugar in the form of glucose binds to proteins in the brain tissue to cause inflammation.
Know your Hemoglobin A1C—which is your 3 month average of your blood sugar. The goal is to have it ideally less than 5.5. Pre-diabetes begins at 5.7, Diabetes at 6.5. We know that the size of your hippocampus—the site of memory, is inversely related to your Hemoglobin A1c level. So, a higher Hemoglobin A1c reduces the size of your hippocampus. The smaller your hippocampus the increased risk of memory loss and dementia. ⁴
Herbs like Turmeric, which you can cook with, have been shown to "lower the risk of neurodegenerative diseases including Alzheimer disease." ⁴ Adding Black Pepper to Turmeric increases its bioavailability and absorption.⁵
Omega 3 Fatty Acids (DHA and EPA) have also been shown to possibly decrease the risk of Alzheimers. ⁶

Walk, Move, Exercise, Dance—In addition to the benefits of exercise on well-being, the heart, the immune system and the body in general, exercise may be one of the most effective tools to prevent Alzheimer's Disease and also to improve cognitive impairment.

Exercise appears to improve brain blood flow, increase hippocampal volume, and improve the growth of new neurons." ⁵
Exercise increases BDNF—brain derived neurotrophic factor, is a protein associated with cognitive improvement and possibly with the alleviation of depression and anxiety. ⁶
How much Exercise: A combination of aerobic and strength training. Check out the American Heart Association Guidelines here: https://www.heart.org/en/healthy-living/fitness/fitness-basics/aha-recs-for-physical-activity-infographic
If you haven't exercised in a while, and may be out of shape, just start slowly. Start walking—even five minutes per day. Keep it up and gradually increase the duration. You should consult your physician before doing vigorous exercise.
To close out this Newsletter, I wanted to tell you about two exciting developments.
First, I am offering a Brain Optimization Program in my office. Learn more at https://drjillbaron.com/programs/.
I have been trained in the Bredesen Protocol ReCode/ReVerse™ programs for enhancing brain health.
As part of your evaluation with me, you get a Cognoscopy™ to assess and optimize your brain function, which includes a focused physical exam, memory and cognitive function tests, and specialized lab work. You receive a ReCODE™ or REVERSE™ actionable report and plan.
Call Now 646-472-5043 to schedule a "Cognoscopy™ appointment with me. Please email staff@drjillbaron.com or call 646-472-5043 to schedule your appointment and find out more.
The second wonderful item, is that my book, Don't Mess with Stress! ™—A Simple Guide to Managing Stress, Optimizing Health, and Having FUN in the Process is to be available for preorder on Amazon.com, on November 17th! I will keep you posted about it.
Until next time, be safe, be healthy, and be happy!
All my best,
Dr. Jill
Other References:
---

1. InformedHealth.org [Internet]. Cologne, Germany: Institute for Quality and Efficiency in Health Care (IQWiG); 2006-. What is an inflammation? 2010 Nov 23 [Updated 2018 Feb 22]. Available from: https://www.ncbi.nlm.nih.gov/books/NBK279298/
2. McGrattan AM, McGuinness B, McKinley MC, et al. Diet and Inflammation in Cognitive Ageing and Alzheimer's Disease. Curr Nutr Rep. 2019;8(2):53-65. doi:10.1007/s13668-019-0271-4
3. Rusek M, Pluta R, Ułamek-Kozioł M, Czuczwar SJ. Ketogenic Diet in Alzheimer's Disease. Int J Mol Sci. 2019;20(16):3892. Published 2019 Aug 9. doi:10.3390/ijms20163892
4. Dong S, Dongwei L, Zhang J, Liang J, Sun Z, Fang J. Individuals in the prediabetes stage exhibit reduced hippocampal tail volume and executive dysfunction. Brain Behav. 2019;9(8):e01351. doi:10.1002/brb3.1351
5. Mirmosayyeb O, Tanhaei A, Sohrabi HR, et al. Possible Role of Common Spices as a Preventive and Therapeutic Agent for Alzheimer's Disease. Int J Prev Med. 2017;8:5. Published 2017 Feb 7. doi:10.4103/2008-7802.199640
6. https://www.umassmed.edu/nutrition/blog/blog-posts/2019/6/using-black-pepper-to-enhance-the-anti-inflammatory-effects-of-turmeric/
7. Avallone R, Vitale G, Bertolotti M. Omega-3 Fatty Acids and Neurodegenerative Diseases: New Evidence in Clinical Trials. Int J Mol Sci. 2019;20(17):4256. Published 2019 Aug 30. doi:10.3390/ijms20174256
8. Sleiman SF, Henry J, Al-Haddad R, et al. Exercise promotes the expression of brain derived neurotrophic factor (BDNF) through the action of the ketone body β-hydroxybutyrate. Elife. 2016;5:e15092. Published 2016 Jun 2. doi:10.7554/eLife.15092