This month's newsletter is about your oral health. Yes, your mouth!
Did you know that your mouth can be a gateway of prevention or a portal of disease?
Recent research has shown that the some of the bacteria in the mouth including the tongue has been associated with pancreatic cancer, and that many diseases, like heart disease, stroke, dementia, and even bad breath have been linked to gum disease.
Gum disease in the early stages is called gingivitis, and periodontitis is a more advanced form of the disease.
Risk Factors for gum disease are smoking, inadequate brushing and flossing, diabetes; hormonal changes in girls and women; medications that lessen the flow of saliva; certain illnesses, such as AIDS, and their medications; and genetic susceptibility.
Symptoms of gum disease include:
Bad breath that won't go away
Red or swollen gums
Tender or bleeding gums
Painful chewing
Loose teeth
Sensitive teeth
Receding gums or longer appearing teeth
And conditions such as celiac disease, diabetes, lupus, GERD (Gastroesophageal Reflux Disease), and anemia, can have manifestations in the teeth, gums, and oral cavity.
I examine my patients' mouths for signs of disease, cancer, and gum inflammation. If you'd like to schedule an appointment for a complete history and physical examination, including your mouth, please call our office at 646-472-5043.

---
What you can do to prevent gum disease and have healthier oral health:
See your dentist regularly for checkups and cleanings
Floss your teeth at least once per day to help remove plaque and bacteria.
Brush your teeth at least twice per day, and ideally after meals.
Use a tongue scraper gently at least once per day. Start at the back of the tongue, and gently move the scraper toward the front. Then rinse the scraper with warm water, and gently scrape again, and rinse the scraper. Then swish your mouth out with water. According to the Cleveland Clinic, 'tongue scraping can do a better job at removing plaque and bacteria off of the tongue surface than brushing your tongue with toothpaste, as brushing the tongue with your toothbrush might further embed bacteria. Be careful not to scrape too hard.
If your tongue gives off any visual clues that it's not healthy — like white, black or red discoloration, or sores or pain that persist for more than two weeks – please see your dentist.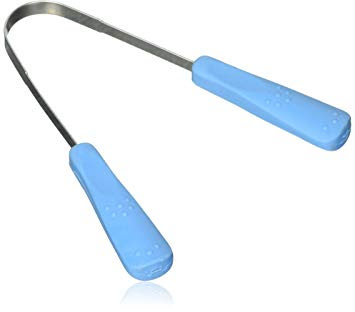 ---
So please remember to Brush, Floss, Scrape, and Rinse!
I hope you have enjoyed this month's newsletter on Oral health.
Remember that good oral hygiene can help you to be optimally healthy and may save your life!
With warm regards,
Dr. Jill
Disclaimer: Please note that the content on this newsletter does not constitute medical advice. Please consult with a physician before making any medical or lifestyle changes.
1. https://www.nidcr.nih.gov/health-info/gum-disease/more-info
2. https://health.clevelandclinic.org/does-tongue-scraping-actually-work-and-should-i-be-doing-it/